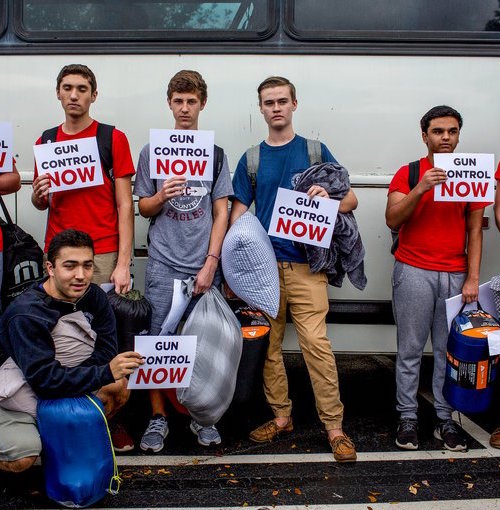 With Hope, Florida Students Take Gun Control Fight On the Road
By JULIE TURKEWITZ and VIVIAN YEE for the New York Times.
TALLAHASSEE, Fla. — Instead of 10th-grade English and 12th-grade calculus, the teenagers from Marjory Stoneman Douglas High School in Parkland, Fla., had another funeral to attend. When the grim ceremony was over on Tuesday morning, they hugged their parents goodbye, stashed their backpacks in the bellies of three buses and set off in grief and hope to demand gun control measures from state lawmakers more than 400 miles away.
As they were getting on the road, the lawmakers in Tallahassee swiftly rejected an effort to debate an assault weapons ban in a party-line vote that said much about how far apart most Democrats and Republicans are when it comes to guns. In the balcony, some Parkland students who had already made it to the Capitol could be seen crying, hands smothering mouths.
It was an early reminder that failure might very well become familiar for these latest, youngest gun control activists, as it has for so many others. Republican lawmakers plan to consider more modest proposals, including raising the minimum age to buy assault rifles, before the session ends in March. Yet a kind of optimism — or maybe just an inability not to believe in their own power — was in the humid air.
"This shooting is different from the other ones," said Daniel Bishop, 16, who sat side-by-side with his sister on the second bus. "Sandy Hook, they were elementary school kids who couldn't stand up for themselves. Virginia Tech was 2007, a different time. But this one, I just have a gut feeling — something is going to change."