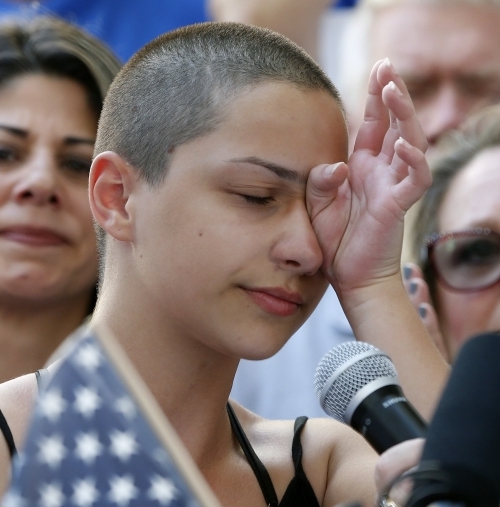 How MSD School Shooting Survivors are using social media to demand change
BY AMELIA TAIT.
Before 14 February 2018, Delaney Tarr used Twitter to share pictures of dogs, screenshots from her favourite Netflix shows and drawings by artists she admired. After a gunman murdered 14 of her classmates and three of her teachers at a high school in Parkland, Florida, the 17-year-old's online presence changed. Since then, her Twitter profile has been made up of moving tributes to her dead classmates, strongly worded arguments with Fox News presenters, and a hashtag: #NeverAgain.
"When the tragedy happened, we realised that this was how we were going to reach as many people as possible," Tarr told me when we spoke on the phone.
"Even if you look at the current president of the United States, he uses Twitter in a way that is unprecedented. And as teenagers, we know how to use social media and we know how to take advantage of it."
Tarr is one of hundreds of Marjory Stoneman Douglas (MSD) High School students using Twitter to make their voices heard. As well as #NeverAgain, they have set up crowdfunding pages to pay for marches and memorials and organised a national school walkout day (planned for 20 April).
During the attack, many students tweeted about what was unfolding in real time – with 14-year-old Aidan Minoff posting pictures from underneath the desk where he was hiding. "My school is being shot up and I am locked inside. I'm fucking scared right now," he wrote in a tweet shared more than 20,000 times. Many more students uploaded videos of the shooting to the messaging app Snapchat.
In a tweet (since deleted) sent on the day of the attack, right-wing pundit Mark Dice criticised the students. "Someone tells Generation Z kids that in the event of a school shooting, they should call 911 instead of posting a video of it on Snapchat," he wrote.
This ridiculous comment was informed by the assumption that social media is inherently frivolous. It isn't. "I've seen all the criticism and I've seen some valid points saying that it is too sensitive to see those videos," Delaney Tarr said, referring to Snapchat clips showing bodies on the floor, pools of blood, and students cowering in fear. "But, ultimately, they're giving you an experience that nobody has had before.
"You're hearing the gunshots that we heard, you're seeing the blood that we had to see. It is something that will haunt you just as it is haunting all of us."
>>READ MORE<<